Erdi am Stöckach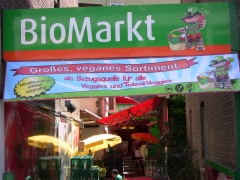 Adress
Neckarstraße 152a
70190 Stuttgart
Deutschland
Contact
Phone: 07 11 / 2 62 18 05
Fax: 07 11 / 2 62 18 11
eMail: service [at] erdi.de
Website: http://www.erdi.de/

Description & offer
--> English version below.

Stuttgarts veganster Biomarkt.

Preise moderat. Standardsortiment mit veganer Spezialisierung.

Sehr großes Angebot an veganen Produkten, zwei (drei?) vegane Mitarbeiter, mehrere vegetarische.
Über 50 Sorten Tofu-, Seitan- und Lupinen-produkte (z.B von "Taifun", "Lord Of Tofu", "Alberts", "Topas" (Wheaty) usw). Vom "Fleischersatz" bis zu den ausgefallensten, kulinarischen Neukreationen.

Z.B: Würste zum grillen, braten, kochen oder als Aufschnitt,
Tofu-Fondue,
Lopino-Steak,
abgefahrene Tofusorten ("Drachentofu", "Neptuns", "Elfentofu", "Salamitos", "Käseecken", Mit Pilzen, Algen, Kräutern, Spezial-Räucherung und vieles mehr),
Klassiker wie Basilikum-, Räucher- und Rosso-Tofu und Natur-Tofu in verschiedenen größen und mit verschiedenen Rezepturen.
Bratlinge,
Terrinnen und
Burger.
Außerdem frischer Tofu-Aufstrich und Sojamolke mit Fruchtgeschmack.

Teilweise aus Sojabohnen, die in Deutschland angebaut wurden.

Alles in Bio-Qualität, versteht sich.

Vegane Tiefkühltruhe (TK-Pizza, diverse Eissorten)

Viele relevante, vegane Produkte werden explizit gekennzeichnet.

Großes Plakat am Eingang mit Hinweis auf veganes Sortiment.

--- ENGLISH ---

Stuttgarts most vegan organic store.

Full sortiment but specialised on vegan products.

Many vegan products are labeled.

More than 50 sorts of Tofu, Seitan and Lupins.

Sausages,
Lupins-"Steaks",
Tofu with seaweed, smoked tofu with and without herbs, fried tofu, tofu with mushrooms, vegetables and of course: natural tofu in different sizes and with different ingredients.
"Cheese"-style, "Blackforest"-style, Tofu-Fondue etc...
Burgers,
Terrinnes,
frozen pizza,
different sorts of ice cream and sorbets (vegan fridge)

Team speaks english too.
Opening hours
Monday - Saturday: 8:00 till 20:00

Edited by
Comments

ich
2010-07-29 16:39
So muss es sein, alles beschriftet!!!!!!