Clear Head - Lehka Hlava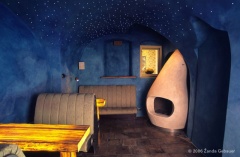 Adress
Borsov 2/280
12000 Prag
Tschechien
Contact
Phone: +420 222 220665
eMail: info [at] lehkahlava.cz
Website: http://www.lehkahlava.cz

Description & offer
Sehr günstiges Restaurant mit toller Atmosphäre und eigener Fruchtsaftbar. Die Speisen sind entweder lacto-vegetarisch (labfrei) oder rein vegan und entsprechend gekennzeichnet.
Es finden auch regelmäßig all-you-can-eat Brunches statt bei denen man sich für 270K satt essen kann.

Die Verständigung auf Englisch ist kein Problem.

Selbstbeschreibung:
"CLEAR HEAD is a project, which began as an idea that took 9 months to bring to life and continues to grow. Come to heaven and sit by the fire, under the stars and experience the balance between old and new, technology and nature, tasty and healthy."
CLEAR HEAD is a non-smoking, open-kitchen restaurant and tearoom, where you won't meet meat and you won't mind. It's a place, whose «genius loci» (spirit of the place) will clear your head, sate your appetite and delight your soul."
Opening hours
Montag bis Freitag: 11:30 Uhr bis 23:30 Uhr
Samstag bis Sonntag: 12:00 Uhr bis 23:30 Uhr

Die Küche schließt um 22.00 Uhr
Keine warme Küche von 15.30 Uhr bis 17.00 Uhr
Comments
veronica
2009-06-21 18:34
wow, das hat mich damals absolut umgehauen. wunderschön und meeegalecker!!!

ozznock
2010-08-07 23:31
Sehr gemütlich eingerichtet. Das Personal wirkte ein wenig verpeilt, aber sympathisch. Vegane Gerichte sind gekennzeichnet und sehr lecker.

lohnt sich! sehr gemütlich, lecker, nette leute.

...und zumindest am wochenende sollte mensch vorbestellen!
Super schönes Restaurant! Essen war super, Preise sehr angemessen, Personal freundlich. Ein absolutes Muss, wenn man ich Prag ist :)