Earth Cafe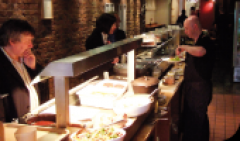 Adress
Turner Street 20
M4 1DZ Manchester
Vereinigtes Königreich
Contact
Phone: +41 161 834 1996
Website: http://www.earthcafe.co.uk

Description & offer
kitty says:
this is one of the most lovely places I have ever been too. The food is lovely, there is an absolutely lush assortment of vegan cakes, the shakes are really tasty (and there are lots to choose from), and the staff are so friendly, you can hardly resist the temptation to invite them along.
GO TRY THEM!!


Manchester Vegan Society says:
"Buddhist-run vegan cafe with great selection of filling food, cakes and smoothies. Although all food is vegan, they persist in offering the option of dairy milk for those too frightened of trying a vegan brew. (And yes, we do keep trying to persuade them to drop this)."
Opening hours
tues–fri 10am–7pm
sat 10am–5pm
Edited by
Comments