Infinity Foods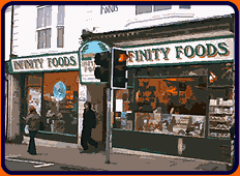 Adress
North Rd 25
BN1 6DA Brighton
Vereinigtes Königreich
Contact
Phone: +44 1273 603563
Website: http://www.infinityfoods.co.uk/infinity-retail.html

Description & offer
Health food store - Set up in 1970, It has been a Workers Co op since 1979. Infinity Foods have been pioneers in promoting high quality organic, natural and fair traded goods.
Opening hours
Mon - Sat 9.30 am - 5.30 pm
Fri 9.30 am - 6.00 pm
Sun 11am - 4pm
Comments

veganch
2009-04-01 14:13
Great selection of many things vegan (food and non-food).

Tolle Auswahl an veganen Produkten. Sehr zu empfehlen sind die Rohkostpralinen, die frischen Backwaren, die Teifkühlauswahl (z.B.Torten!) und die Kuchenstücke der "Heavenly Cake Company" (im Kassenbereich).