Secret Society Of Vegans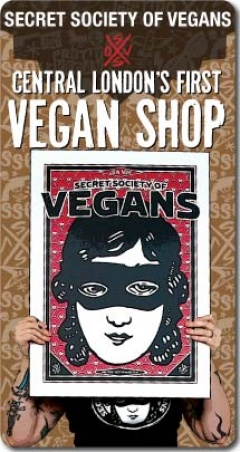 Adress
Caledonian Road 73
N1 9BT London
Vereinigtes Königreich
Contact
Phone: London 020 7833 2315
eMail: info [at] secretsocietyofvegans.co.uk
Website: http://www.secretsocietyofvegans.co.uk/shop/

Description & offer
Coming from Kings Cross St Pancras station, go down Euston Road towards York Way or Pentonville Road. Turn left on Caledonian Road. Walk approximately 3 minutes and find Vx on the left side of the road.

WE ALSO DO MAILORDER!

From Camden Town / Greenland Road. Take the Route Bus 214 from Stop: T towards Liverpool Street Station. Approx. 10 mns.

From Tottenham Court Road Station. Take the Route Bus 10 from Stop: V towards Kings Cross Rail Station. Approx. 10 mins.

From Victoria Bus Station. Take the Route Bus 73 from Stop: D towards Tottenham T.Hall/Seven Sisters. Stop at Pentonville Rd.
Opening hours
Tuesday - Friday: 14:00 till 18:00
Saturday - Sunday: 12:00 till 18:00
Edited by
Comments
ruedi
2009-06-04 14:08
man muss ganz nach hinten durch gehen, hab das zuerst nicht gecheckt...

zageism
2009-11-03 18:24
Klasse Laden :)

Hm, ich war im Februar im Shop - 73 Caledonian Road, London N1 9BT. War leider eine sehr kleine Ladenfläche und das Angebot war auch noch nicht sehr reichhaltig. Ein paar Schuhe, ein paar Klamotten, ein Kühlschrank, ... Der Inhaber und eine Hilfskraft(?) oder Freundin waren aber sehr nett, und er meinte, dass sie das Untergeschoss auch noch mi Ware bestücken wollen. Habe mir zwei sehr schmackhafte Cakes gekauft (Schokolade und Vanille-Kaffee). War so 'ne Mischung aus Muffin, Mürbeteig und Bisquit. Sehr frisch, sehr süß, sehr geil! :-)