Vegetalia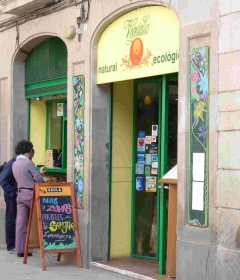 Adress
Carrer dels Escudellers 54
08002 Barcelona
Spanien
Contact
Phone: +34 93 317 33 31
eMail: vegetaliabcn [at] hotmail.com
Website: http://www.restaurantvegetalia.com

Description & offer
Tolles vegetarisches Restaurant im Herzen des gotischen Viertels mit vielen veganen Gerichten.

Great vegetarian restaurant with many vegan dishes in the heart of the gothic quarter.

Opening hours
Monday - Thursday: 13:00 till 23:00
Friday - Sunday: 13:00 till 23:30

Edited by
Comments

Super Restaurant!! Alles vegetarisch mit großer veganer Auswahl... Es werden auch komplette Menüs angeboten (sogar mit veganem Eis). Sehr lecker, nicht zu teuer und schönes Ambiente...